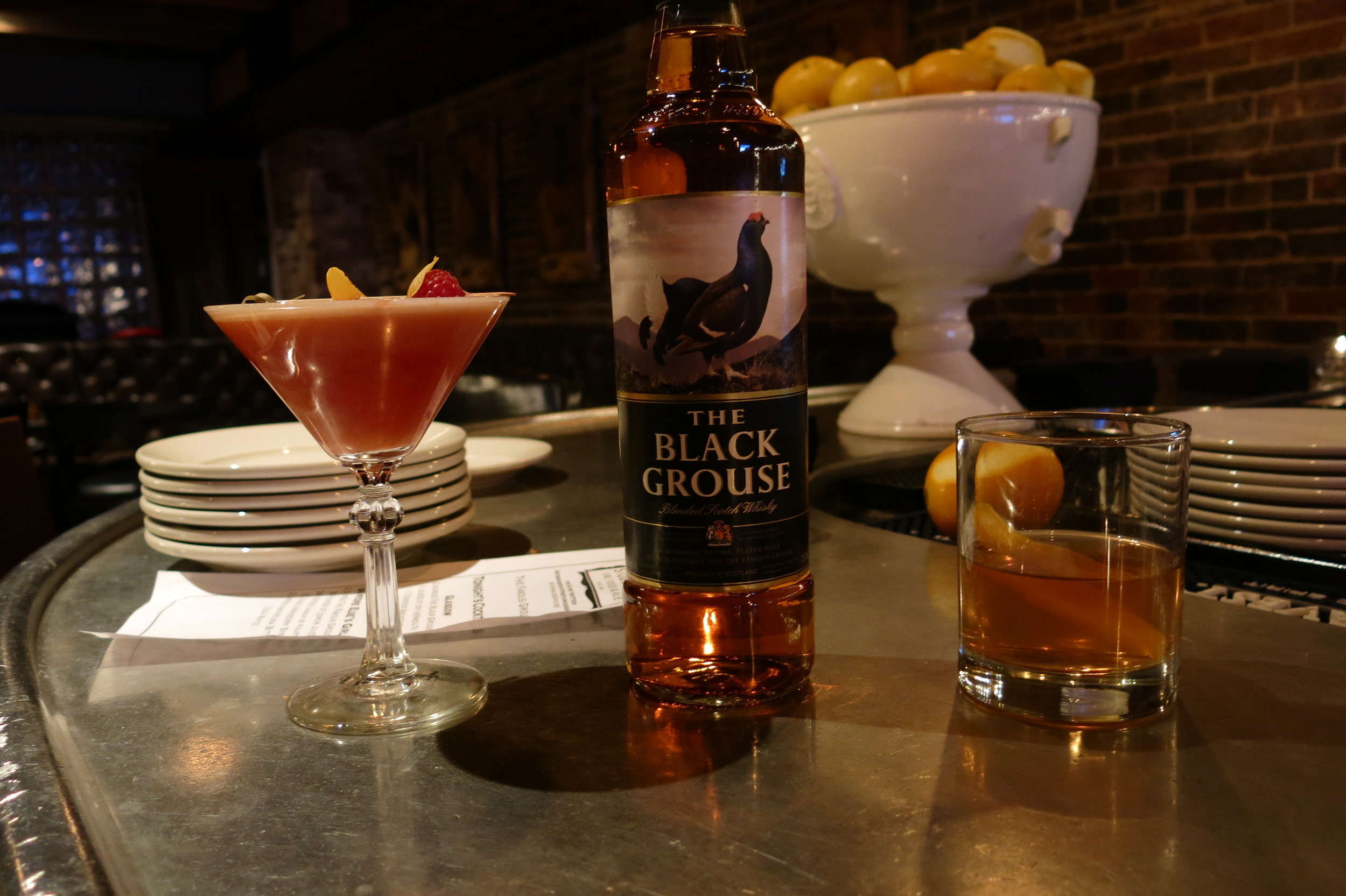 Scotch has never been the most approachable of liquors. Like all whiskies, it's an acquired taste; and while it's certainly one worth acquiring, there are rules to heed before you even think about pouring yourself a glass. Some varieties are best enjoyed on the rocks; others must be consumed neat. A little water might open up the flavors of certain scotches – and completely ruin others. Ultimately it's all a matter of personal preference, but scotch connoisseurs tend to be passionate – and vocal – about their customs. So if the simple act of dropping an ice cube into a glass of scotch can provoke outrage, mixing scotch into a cocktail must be on par with a capital offense, right?
Not according to the good folks at The Famous Grouse. And with more than a century's worth of distilling experience, they're free to keep their own counsel on the matter.
The Famous Grouse has been making blended whisky in Scotland since 1897. The smoothness, drinkability, and affordability of its flagship product have made The Famous Grouse the best-selling scotch in the land of kilts and bagpipes. But a newer addition to the Grouse's line has rightfully earned its share of the spotlight.
The Black Grouse differs from the original blend in that it's made with peat, which gives many scotches their signature smoky character. It's a smooth, aromatic scotch with a long, oaky finish. The Black Grouse is exquisite on its own, and its makers do recommend consuming it neat. But they're not terribly preachy about the best way to enjoy their scotch, even going so far as to offer cocktail recipes on their website. Of course, you wouldn't expect pretension from a brand that named itself after a Scottish game bird similar in appearance to a chicken.
That said, the Black Grouse flew into Boston this week and teamed up with mixologists at two bars to see how its smoky scotch fared in a range of cocktails. I was fortunate to be part of a small group that took part in a scotch-themed mini bar crawl that was as enlightening as it was intoxicating.
The dark, elegant confines of the backroom bar at Carrie Nation provided an appropriately dignified atmosphere for the first two cocktails of the evening. Bartender Brian Kline explained that his first concoction, the Sweet Release, was modeled after a 1930s-era cocktail called the Remember the Maine. Combining Black Grouse, sweet vermouth, Luxardo cherry juice, Angostura bitters, and an absinthe rinse, the Sweet Release was strong, smoky, and tart. Brian noted that the cherry juice served to bring out the smokiness of the scotch, while the absinthe gave the drink a pleasantly bitter finish.
"Part of what I love about this job is coming up with drinks with ingredients that people think they don't like," Brian said in his introduction to the evening's second cocktail, the Ginger Kiss. "You'll like this," he added. Made with Black Grouse, yellow chartreuse, fresh lemon juice, and ginger liqueur, plenty about this could challenge the palate of a timid drinker. But the Ginger Kiss was a vibrant, well-balanced cocktail with a smoky essence and notes of citrus. The distinctive flavor of ginger permeated the drink without overpowering it, and the chartreuse was used sparingly.
Thankfully there was some food, too, which kept us all upright while we sipped our potent libations. Hearty pulled pork sliders were a good match for the smoky notes of the Sweet Release.
Peanut Thai chicken skewers were highly addictive and paired well with the sweetness of the Ginger Kiss.
From there we headed to the cave-like, downstairs bar at Stoddard's, where mixologist Tony Iamunno offered his take on how to employ scotch in a cocktail.
First up was Someone Else's Girl, the name of which, Tony wistfully noted, was autobiographical. This decadent drink was a mix of Black Grouse, egg white, Crème Yvette, raspberry syrup, lemon juice, and Angostura bitters. Garnished with raspberries, this cocktail was nothing short of luxurious. The egg white gave it a creamy texture, while the Crème Yvette, a fruity, violet liqueur that reemerged in 2009 after a 40-year hiatus, provided a well-rounded sweetness. Using a smoky scotch like Black Grouse in such a sweet, velvety drink was clever and unexpected.
Coming on the heels of that soft, creamy cocktail, the final drink of the night was like a bacchanal of bitterness. The Smoky Glasgow combined Black Grouse, absinthe, and dry vermouth in a well-conceived but intense cocktail. This was a serious drinker's drink, with a prominent licorice flavor from the absinthe and an herbal dryness from the vermouth. Both of the bitter liquors served to enhance the smoky character of the Black Grouse, and an orange peel offered just the slightest hint of citrus. A challenging combination of flavors, but well done.
All that bitterness was balanced by a plate of Stoddard's' chipotle citrus chicken wings, which brought some spice and a little sweetness to the party.
And as a special treat, we got an order of that timeless staple of French-Canadian cuisine, poutine. These hand-cut fries topped with melted cheese curds and a delicious duck fat gravy went well with both cocktails. Then again, poutine goes well with just about anything.
As it turns out, scotch goes well with a few things too. While there are, of course, a handful of traditional scotch-based cocktails, they have yet to enjoy a resurgence in popularity; it's rare that I hear someone order a scotch and soda or a Rob Roy. But the drinks Brian and Tony made for us this week demonstrated an impressive range of styles for scotch drinks, from classic to indulgent to vigorously bitter.
For those of us who typically wouldn't pair scotch with anything other than a quality cigar, the experience illustrated the benefits of experimenting with this most distinguished of liquors. Granted, making a whisky sour with an 18-year-old Macallan would be considered an alcoholic atrocity, but using a more versatile scotch like The Black Grouse in a high-end cocktail is unlikely to invite scorn. A glass of scotch served neat may forever be the pinnacle of respectability in the world of booze, but even the most stubborn whisky drinkers know when to bend the rules.
* * * * * * * * * * * * *
Copyright © Boston BarHopper. All Rights Reserved.